Recently, we put out an open call for participants in an experiment coupled with a series of blog posts where Brian or Mike writes up impressions and advice about a SaaS company's pricing pages with their cooperation. This is the third entry in that series. Thanks to Pavel Trukhanov, CEO of okmeter.io, for working with us! Here we go!
According to their marketing site, okmeter.io provides an "Instant monitoring solution" that allows users to "Be the first to know how to fix everything." Their pricing page is simple and direct. Let's dive in.
The Heading
The headline, "Pricing & Plans," is straight and to the point — we see a lot of pricing pages that have the words "pricing" or "plans" or "both" in them.
The subheading reads "Upgrade or Downgrade anytime." I believe that this is meant to illustrate how customers can easily move between plans, but I'm curious why okmeter.io feels that they need to use some of the most valuable real estate on the pricing page to emphasize this particular point.

The H1/H2 format is easy to read, but is plan switching the most important thing to emphasize?
I'd like to see something in the subheading that spoke strongly to the value that I'm going to get out of the product or maybe some language to make me feel more confident in my decision to purchase. There may be some context here for why this line ended up in this spot, but from here it seems a bit out of place.
Self Service Plans
There are four self service plans available: "Hacker," "Lite," "Std," and "Pro." The plans are differentiated on both features and capacity: data retention, integrations, and support all improve as you pay more per month per server…except for the Hacker plan.
The "Hacker Plan" limits a customer to one server, one day of data retention, and costs $1 per month. This is likely to capture the "lower end" of the market, e.g. hobbyists, etc. who like and want to use okmeter.io for one server but don't want to pay very much. Whenever I see options like this on pricing pages, I advocate for removing them. You can capture this market in other ways: offering free plans for Open Source maintainers, or simply making it free. Charging $1/month means plans will churn at a higher rate, and is probably more of an administrative burden than it's worth.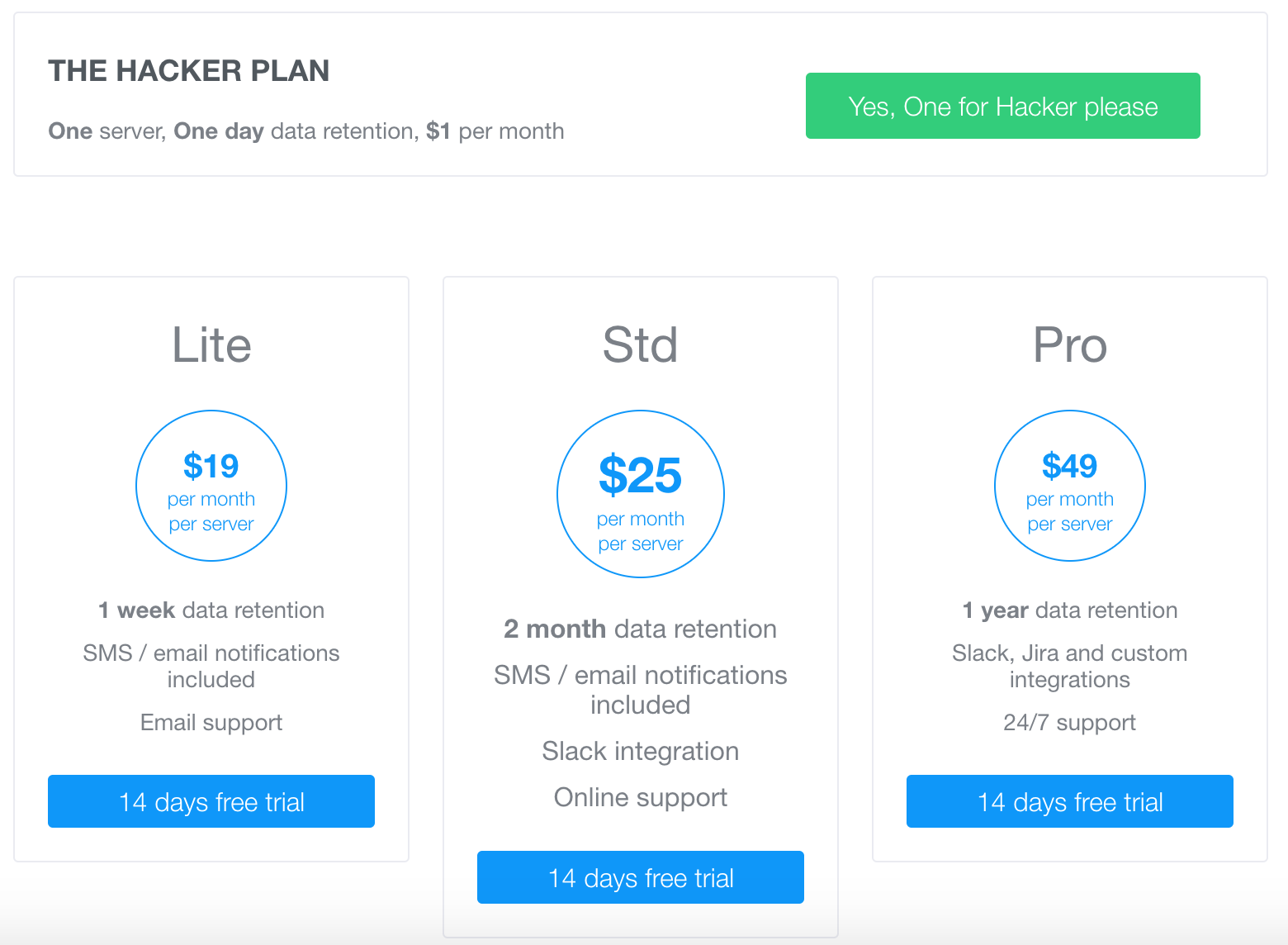 Plans range from $1 to $49+ per month.
The "Lite," "Std," and "Pro" plans are priced reasonably. I don't know how many servers a typical okmeter.io customer monitors, but there is a clear path here for expansion revenue, at least. It might be interesting to try and capture more value by turning these three plans (assuming "The Hacker Plan" gets nixed) into two: maybe Startup *and *BigCo.
The Startup plan could include up to 5 servers and cost $99/month, and the *BigCo *plan could include 25 servers, have better support, and cost $499/month. Both plans could offer additional servers at $19/$39 each, for example. It would be interesting to see how this would play out with okmeter.io's existing customer base.
Currently these plans have a 14-day trial, which I think is spot on for this price point.
Enterprise Plans
Okmeter.io offers an "Enterprise" plan which requires contact to request a pricing quote. There's a few things to note about this:
Having a "Request a quote" link on the same page as a plan that costs $1/month is never a good thing.

Everything is unlimited in this plan, there are no usage limits. How does okmeter.io plan to expand revenue on subsequent contracts with this in place?

It's not clear if this is an on-premise solution or if okmeter.io operates the Enterprise installation.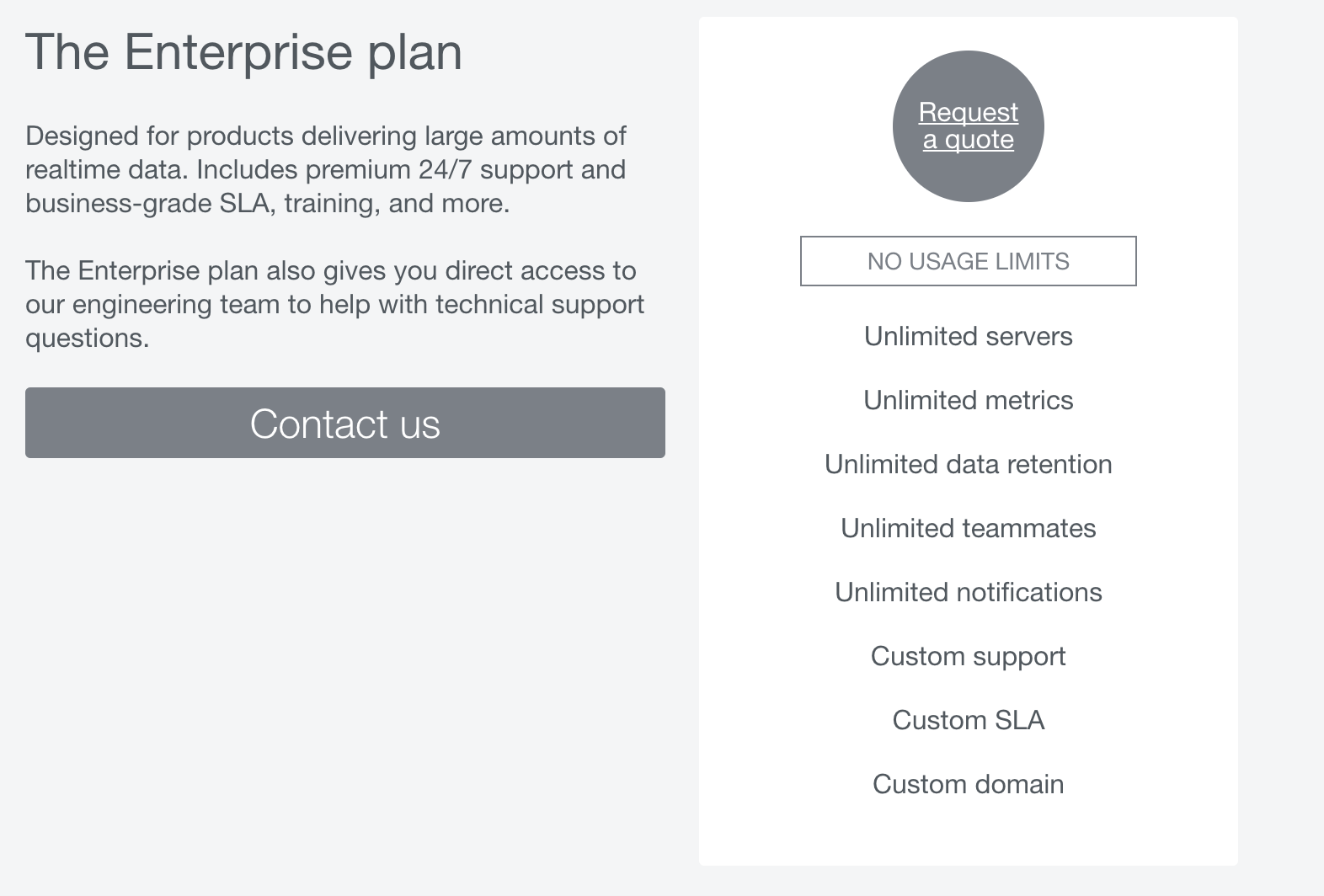 Enterprise users, look no further.
Messaging & Audience
Overall the tone and messaging of this page is pretty neutral, and that's just fine. There could be a bit more selling going on here, but not overselling has its own merits.
Recommendations
Okmeter.io is not making any fatal mistakes with their pricing and packaging. They've established themselves in a competitive market and offer a compelling product. That being said, there is some room for improvement. Here are our recommendations:
Rework the page's subheading to highlight product value

Split the "Enterprise" page into its own pricing section which speaks more directly to enterprise buyers.

Eliminate the "Hacker Plan" and replacing it with some other mechanism to get people on board.

Consider condensing three plans into two, with built in expansion mechanisms.
Exploring these changes can help bring some clarity to okmeter.io segmentation, potentially raise ACV, and allow for more up front value capture.
What do you think of okmeter.io's pricing page? If you would like to share your opinion or would like us to review your page next, let us know via email or in a response!
---